Hey True Believers!
Play On Words is available now for presale on iTunes at https://itunes.apple.com/us/album/play-on-words/id1174668124
Thanks for all your support leading up to the release of the latest record. It's been a heck of an adventure. I wanted to share some personal anecdotes about writing the songs for this record. We'd love to hear what the songs mean to you!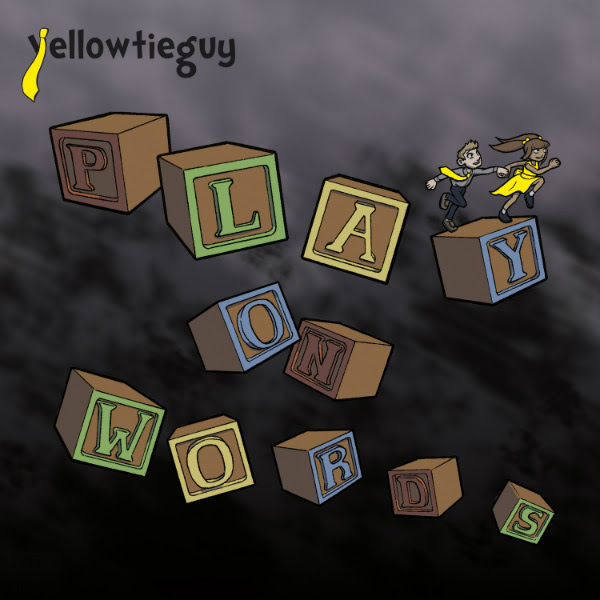 When songwriting for Play On Words there were two objectives. The first was to be able to release a certain number of songs that were kind of stragglers from our first record, Joy in the Mourning. The second objective was to focus on writing songs for Play On Words that set a new tone for what Yellow Tie Guy was capable of. We wanted to get away from minor keys when possible, and to steer emotions towards one of optimism. Not blind optimism, but certainly anti-cynicism. Play On Words is that tipping point where one must take life seriously, but not too seriously, and enjoy every moment as it's own little destination inside the journey.
One to Break is the lead track on the record, promised to co-writer Jason McKinney that this would lead the record even before it was recorded. I felt that it was important to set the tone that the new record was very much about sharing more of the talent inside our own community and not at all about self. In a small way, the lyrics reflect that with lines such as: "Can't I be the one this time to break", which is recognizing the sacrifices (both great and small) of the various people that make up your life, and knowing when it is time to give more of yourself than is even asked for.
Speaking of the diversity of talent, First Move features former Marine Corps trumpeter Brad Mamalis, who worked with us one on one to perfectly recreate the trumpet sounds we heard in our heads. Brad would later marry our first bassist, Mary Celeste, and whisk her away to California. Mary's bass playing is highlighted in this song, and so is former Yellow Tie Guy drummer Ralf Madrigal. Ralf originally recorded drums for six or seven of the songs on the record, but those recordings were tragically lost in a series of unfortunate hard drive failures. First Move is the only song where we were able to fully recover those recording sessions.
Rules of the Game starts of with me singing and playing acoustic, which is how much of Yellow Tie Guy is operated from a songwriting and a band perspective, but the band comes in and the entire dynamics change. This song is a great example of how what I hear in my head can only be conveyed with the help of other talented musicians. Featuring the talents of our new bassist Jamie Rasmussen (also performing with Crooked Crow), and our primary drummer, Steve Syzbowski (also performing with Dimensionauts and Robot Jurassic), Rules of the Game is a reminder to me that I don't have to adhere to any specific rules per se while songwriting. It's also a reminder that while we are surround by laws to govern the universe and society, we have the ability to make decisions and take action that can bend those rules temporarily and possibly even break them.
Anthem was given it's name by my brother, James Hill, who heard the song for the first time in my garage and was inspired by and wanted to have it play before he walked into a room, like a major athlete walking onto the field. Anthem is a song that recognizes difficulty, but uses it to fuel change and growth. Anthem asks if it's still important to do good when it seems useless to do so. Anthem questions whether those that arrive to a destination first are truly "better" or "greater" than those who take their time to experience more of the journey.
Stronger Than I comes from a place of deep need. It is a testimony to the workings of the heart with regards to the stress caused by basing all your actions on the perceived desires of others. Whether real or imaginary, when one places the burden of another's expectations on one's self, it can be devastating. Stronger Than I is a plea for courage to those looking to break free of these social constructs, and a plea for respite from any person who might hold someone to a higher level of expectations than is reasonable.
At live shows, I like to tell people that Afraid Of The Rain is dedicated to anyone who, regardless of age, still enjoys jumping into puddles. Maturity would dictate that at some undetermined age it's no longer acceptable to go play in the rain. The spirit of youth, and in many ways the display of our liberty and freedom, is to do things that are simply done because of enjoyment. To live without the fear of the consequences of stepping outside our comfort zones. Guest bassist, Chubbs (from Dimensionauts and Robot Jurassic), is the source of this song's extra drive to keep your feet moving.
Brood (Another Line) is in many ways an abrupt change from the rest of Play On Words. I had gone through a relationship that left me broken in many ways, and I gave this song my everything in order to keep the feelings I was having out of other songs that were still being written. I started the song with "I won't waste another line on you. This will be the only one," and I meant it. Brood is then the quintessential break up song that leaves no question to the outcome. "The solution for your situation is to forget about me, so I'll forget about you."
Dreaming is a really fun song that derives its pop rock vibe from a number of places. The most prevalent is the song having lyrical contributions by EDM Producer Joe Schmitt (DJ Mosimax), and bass lines energetically played by Jamie Rasmussen who plays tightly with former Crooked Crow drummer Kyle Jackson. I remember being at a party, writing the melody and lyrics in my head while observing everyone in the room who seemed to be there simply because they felt they had no other place to go. In opposition to those at the party who were there because they felt surrounded by friends, family, and companions to celebrate life and face hardship with. Dreaming is a song that seems suspended in time, much like the scene in which the song is set.
War (Should I Be So Surprised) makes its second appearance on a Yellow Tie Guy record (appearing first on Joy in the Mourning. This song is a journalistic means of expressing the loss of American Troops who died not in battle, but in violence in their own neighborhoods after returning home. While the orchestration for this version of War is similar to the first release, there is a certain performance factor that makes it a perfect lead in to War (It's You I'm Fighting For), which is told from the perspective of a soldier who may have many different reasons for why they engage in combat. Regardless of the reasons, the people at home are the benefactors of having someone else take up arms to fight on their behalf.
Good Day is probably the most pop sounding of any other song on the record. This is a song that comes from a place of integrity, home, and family. The joy of having someone else in our life to share experiences with and help them grow and develop is irreplaceable. The song sounds a bit open ended and could be applied to any relationship. However, my initial inspiration for this song is the result of the positive influence my daughter has in my life by waking up every day with such a great attitude. She still wakes up every day ready for fun, adventure, and learning, and that's an attitude I hope we can all wake up to.
Thanks again, and I hope you'll order your copy of Play On Words and be sure to write us and tell us what YellowTieGuy songs mean to you!
-Daniel